Reviews
Descriptions:
Return to a world of two realities: one, everyday life; the other, what lies behind it. To find out if his reality is a construct, to truly know himself, Mr. Anderson will have to choose to follow the white rabbit once more.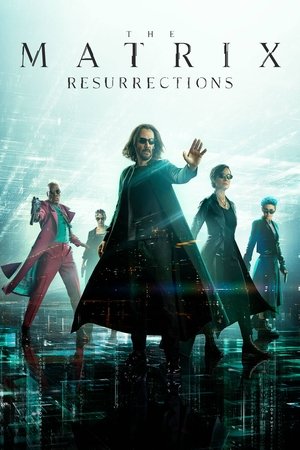 The Matrix Resurrections
Plagued by strange memories, Neo's life takes an unexpected turn when he finds himself back inside the Matrix.
Keanu Reeves

Carrie-Anne Moss

Yahya Abdul-Mateen II

Jessica Henwick

Jonathan Groff

Neil Patrick Harris

Priyanka Chopra Jonas

Christina Ricci

Jada Pinkett Smith

Telma Hopkins
Chad Stahelski
Lambert Wilson
Brian J. Smith
Toby Onwumere
Max Riemelt
Eréndira Ibarra

Andrew Lewis Caldwell

Joshua Grothe
Michael X. Sommers
L. Trey Wilson
Mumbi Maina

Max Mauff
Purab Kohli

Freema Agyeman
Sabrina Strehl

Andrew Rothney

Cooper Rivers
Esther Silex

Leo Sheng
John Gaeta
Donald Mustard
Kim Libreri

Joe Mazza
Julian Grey
Gaige Chaturantabut

Tiger Hu Chen

Volkhart Buff
Amadei Weiland

Stephen Dunlevy
Ellen Hollman

Ian Pirie

Nicolas de Pruyssenaere
Felix Quinton
Aaron Pina

Dani Swan

London Breed

Steven Roy
Mercy Malick
Juval Dieziger

James McTeigue

Sarah McTeigue
William W. Barbour
Kenny Beers

Thomas Dalby
John Lobato

Ed Moy
James D. Weston II

Tom Tykwer

John Toll
Grant Hill
Lilly Wachowski

Lana Wachowski

Lana Wachowski

Lana Wachowski

Lana Wachowski

Dane A. Davis

Dane A. Davis

James McTeigue

Henning Molfenter

Carmen Cuba
Jonathan Eusebio
Mike Möller
Eric Brown
Doug Coleman
Zack Duhame
Pierre Buffin

Christoph Fisser
David Mitchell
Tim Rigby
Bryan O. Watkins

Scott Rogers

Flora Moody

Flora Moody
Moriah Etherington-Sparks
Brett Praed

Can Aydin

Chris Reid

Cale Schultz
Jeff Mosley
Gabriel Rios