Reviews
Descriptions:
Phone Bhoot
A ghost reaches out to two bumbling ghostbusters for a business idea. However, their plans go downhill as the eerie ghost reveals her plan.
Phone Bhoot (transl. Phone Ghost) is a 2022 Indian Hindi-language supernatural comedy film directed by Gurmmeet Singh and produced by Farhan Akhtar and Ritesh Sidhwani under the banner of Excel Entertainment.[3][4] The film stars Katrina Kaif, Ishaan Khattar, and Siddhant Chaturvedi and Jackie Shroff.[5][6] It was released theatrically on 4 November 2022 to mixed response from the critics.[7]
Major and Gullu are two unemployed young men who aspire of becoming exorcists and ghost busters in order to earn their living after watching a lot of horror movies since their childhood. They stay at a rented house where they always pray to their close friend 'Raka' to help them alleviate their poverty through a statue of Raka that they had obtained while digging across a hill. One fine day they decide to host a ghost halloween party at midnight after seeking permission from Raka and they make arrangements for the same. At midnight, Raka's glowing eyes suddenly shut down. In order to mend Raka's eyes, Major and Gullu illuminate the light source of the eyes by connecting it to a live wire. Unfortunately both of them are electrocuted during this manoeuvre, and fall unconscious to the ground.
During their state of unconscious, they enter into a different realm of the dead altogether, where they happen to meet Ragini, a benevolent ghost who promises to help them achieve their desires and wealth in return for a favour that she would ask them to do later on, which they aren't supposed to refuse at any cost. Mesmerized by her beauty and charm, both Major and Gullu fall flat for her and agree to help with her business deal. The deal was to help attain moksha (salvation) for depraved souls by exposing the criminals who had wronged those souls while they were living. In return for this favour, both Major and Gullu would earn a lumpsome amount of money and they would have to contribute a certain proportion of their earned money to the families of those depraved souls, so that the souls are satisfied and they attain salvation. After Major and Gullu regain consciousness, they are surprised to see Ragini in their house who had appeared in their dream. It is now that they realise that they had tampered across the netherworld during their state of unconsciousness.
Inspired by Ragini's idea both Major and Gullu start their own "Phone Bhoot" company and Ragini helps them in their business. Their business eventually grows and the phone bhooth company attains enormous fame. This is envied by Atmaram, an evil tantrik who learns of the Phone Bhoot company and plans to destroy them by summoning certain witches and ghosts. But Atmaram's attempts to harm Major and Gullu are thwarted by Ragini. Soon Atmaram learns that this ghost Ragini who is protecting both Major and Gullu is none other than the deceased lover of the late king "Raja Dushyant Singh" and both were murdered on the highway through a car crash which was actually an evil plot designed by none other than Atmaram himself in order to end Dushyant's reign as king and thereby confiscate his power and wealth. So Atmaram captures Ragini in a bottle during the day of lunar eclipse using his evil tantrik powers as Ragini's powers were weakened during that time. After the capture of Ragini, both Major and Gullu feel dejected and deceived because they lately realise that Ragini had used them to their advantage and manipulated them to seek revenge on Atmaram for the murder of her lover Dushyant whose soul was now held captive by Atmaram in his treasury of magic bottles.
When they are about to part ways, they are confronted by another benevolent ghost whom they had liberated during one of their past exorcisms using Ragini's help. This ghost reveals to them that Ragini is in dire trouble and requires their help for one last time in order to free many souls from the trap of Atmaram including that of Dushyant. On learning this, both Major and Gullu enter Atmaram's cave and confront him in a severe magical battle where they deceive him through sinister tricks and liberate Ragini and Dushyant who in turn liberate the other souls that are trapped. The combined powers of all the souls then manage to push Atmaram to the underworld where he is caught up in hell fire. Ragini and Dushyant reunite happily in their metaphysical form and assure Major and Gullu for future help whenever needed.
Soundtrack
[
edit
]
The first song "Kinna Sona" released on 13 October 2022.[9] Sung by Tanishk Bagchi and Zahrah S Khan. Lyrics and composed by Bagchi.[10]
The second song "Kaali Teri Gut" released on 18 October 2022.[11] Sung by Romy and Sakshi Holkar. Composed by Roy and lyrics by Kumaar.[12]
The other songs was released as album on 18 October 2022.[13] Third song "Phone Bhoot Theme" official video was released on 31 October 2022.[14]
No.
Title
Lyrics
Music
Singer(s)
Length
1.
"Kinna Sona"
Tanishk Bagchi
Tanishk Bagchi
Tanishk Bagchi, Zahrah S. Khan
3:18
2.
"Kaali Teri Gutt"
Kumaar
Roy
Romy, Sakshi Holkar
3:17
3.
"Phone Bhoot Theme"
Baba Sehgal
Mikey McCleary
Baba Sehgal
3:07
4.
"Jaau Jaan Se"
Kumaar
Rochak Kohli
Rochak Kohli, Lisa Mishra
3:17
5.
"Jaau Jaan Se" (Chill Mix)
Kumaar
Rochak Kohli
Rochak Kohli, Lisa Mishra
3:20
Total length:
16:19
Production
[
edit
]
The principal photography commenced on 12 December 2020 in Mumbai.[15][16]
Reception
[
edit
]
Phone Bhoot received mixed reviews from critics.[17][18] Rachana Dubey of The Times of India rated the film 3.5 out of 5 stars and wrote "Gurmmeet Singh puts out a unique horror comedy which is a departure from most material one has seen in the year so far. For that itself this one do not deserve a visit to the theatre".[19] Nairita Mukherjee of India Today rated the film 3.5 out of 5 stars and wrote "Phone Bhoot is heavily dependent on Katrina Kaif and she honestly does her best to pull the film. Where she fails, the makers have strategically placed Ishaan and Siddhant, both known for their spunky comic timing, to add a redbull boost".[20] Devesh Sharma of Filmfare rated the film 3 out of 5 stars and wrote "Phone Bhoot is perhaps the silliest horror comedy you"ll ever see".[21] Bollywood Hungama rated the film 3 out of 5 stars and wrote "Phone Bhoot has a fine first half with all the ingredients of a youthful, fun horror comedy. However, the second half could have been better. At the box office, the film will appeal to an audience who love horror comedies".[22] Soumyabrata Gupta of Times Now rated the film 3 out of 5 stars and wrote "Phone Bhoot is a trippy horror ride which could have done better with a few more episodes on the chopping block.[23] Saibal Chatterjee of NDTV rated the film 2.5 out of 5 stars and wrote "Phone Booth isn't an earth-shattering, game-changing deal for the genre but it has the feel of a full-on mad hatters' party where everything goes".[24] Pratikshya Mishra of The Quint rated the film 2.5 out of 5 stars and wrote "The film's own, original comedy, rarely works except when stars like Jackie Shroff and Sheeba Chaddha are at work".[25] Sukanya Verma of Rediff rated the film 2.5 out of 5 stars and wrote "Phone Bhoot would be a lot more memorable if it wasn't merely a costume ball doffing its hat at Hollywood, Bollywood, Fukrey, Thalaivaa, a heroine who drinks mango juice like few can or a hero who can't stop playing his flute".[26] Sanyukta Thakare of Mashable rated the film 2.5 out of 5 stars and wrote "Phone Bhoot isn't the perfect choice, but it is worth a watch for a chill-out session when you are tipsy with your friends".[27]
In November 2022, Siddhant Chaturvedi, in an interview, mentioned that the sequel for the film had already been planned.[28]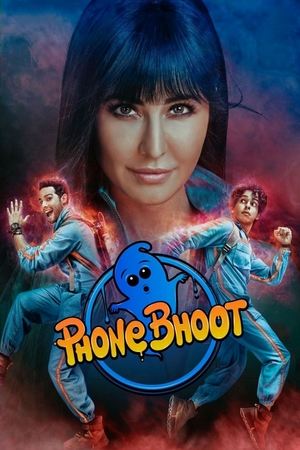 Phone Bhoot
Two crazy, jobless, horror-film addicts Major and Gullu, under immense family pressure to find work, hit upon the idea to float a unique ghost-capturing service when they meet a spirit, Ragini, who makes their business a success but in return asks them for a favour which they are compelled to honour.
Katrina Kaif
Ishaan Khattar
Siddhant Chaturvedi
Jackie Shroff
Sheeba Chaddha

Nidhi Bisht
Manu Rishi Chadha
Manuj Sharma
Shrikant Verma
Varun Sharma

Pulkit Samrat
Manjot Singh

Farhan Akhtar
Ritesh Sidhwani

Kumaar

Raju Sundaram

K.U. Mohanan
Mikey McCleary

Rochak Kohli

Rochak Kohli
Baba Sehgal
Baba Sehgal

Abhishek Banerjee

Tanishk Bagchi

Tanishk Bagchi

Tanishk Bagchi
Zara Khan