Reviews
Descriptions:
Anger and grief heighten tensions between the group. The Professor, while in mourning, attempts to make a daring and dangerous escape.
Palermo shocks the group with his actions. Sierra pressures her subject to take a deal. The Professor remembers his brother's wedding.
The Professor's mole attempts to pass along his message to the person inside the tent. Denver's jealousy toward Mónica and Rio's friendship heightens.
In the past, Berlin predicts that Gandía will cause problems for the operation. Sierra's interrogation of Lisboa leads to a personal revelation.
Denver turns to an undercover source for help. Nairobi attempts to motivate her team as the danger around them intensifies.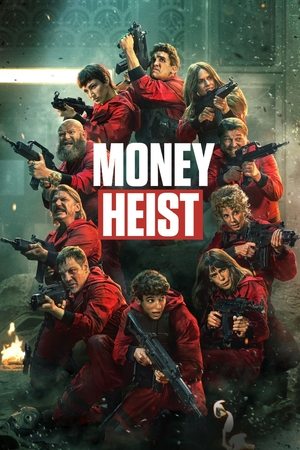 Money Heist
La Casa de Papel
To carry out the biggest heist in history, a mysterious man called The Professor recruits a band of eight robbers who have a single characteristic: none of them has anything to lose. Five months of seclusion - memorizing every step, every detail, every probability - culminate in eleven days locked up in the National Coinage and Stamp Factory of Spain, surrounded by police forces and with dozens of hostages in their power, to find out whether their suicide wager will lead to everything or nothing.

Álvaro Morte
Pedro Alonso
Úrsula Corberó

Itziar Ituño
Jaime Lorente
Miguel Herrán

Esther Acebo

Najwa Nimri
Rodrigo de la Serna

Darko Peric
Hovik Keuchkerian
Luka Peroš
Belén Cuesta
Enrique Arce
Fernando Cayo

Specials
Season 1

Season 2
Season 3