Reviews
Descriptions:
When Rio is captured, a distraught Tokyo turns to the Professor for help. Armed with a bold new plan, they reunite the team in order to rescue him.
The Professor recruits Martín to put his brother's plan into action and target the Bank of Spain. First step? Create total chaos.
Tokyo and Nairobi's efforts go drastically awry. The Professor recalls Berlin detailing how they'd steal the gold from the water-logged vault.
Tamayo's breaches of protocol surprise the Professor. Bogotá calms Denver's anxieties. With time running out, Palermo initiates the "Flipper" plan.
The Professor shocks officials with his latest stunt, but in response, a new inspector rattles Raquel. Palermo and Nairobi get into a heated argument.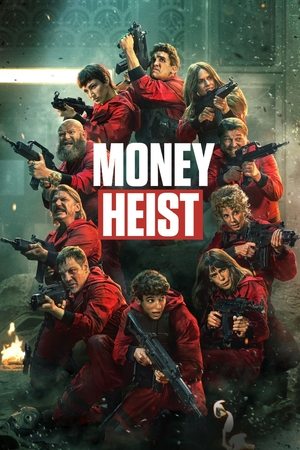 Money Heist
La Casa de Papel
To carry out the biggest heist in history, a mysterious man called The Professor recruits a band of eight robbers who have a single characteristic: none of them has anything to lose. Five months of seclusion - memorizing every step, every detail, every probability - culminate in eleven days locked up in the National Coinage and Stamp Factory of Spain, surrounded by police forces and with dozens of hostages in their power, to find out whether their suicide wager will lead to everything or nothing.

Álvaro Morte
Pedro Alonso
Úrsula Corberó

Itziar Ituño
Jaime Lorente
Miguel Herrán

Esther Acebo

Najwa Nimri
Rodrigo de la Serna

Darko Peric
Hovik Keuchkerian
Luka Peroš
Belén Cuesta
Enrique Arce
Fernando Cayo

Specials
Season 1

Season 2
Season 3