Reviews
Descriptions:
A record company intern is hired to accompany out-of-control British rock star Aldous Snow to a concert at L.A.'s Greek Theater.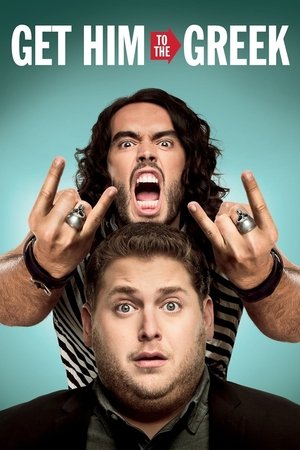 Get Him to the Greek
Pinnacle records has the perfect plan to get their sinking company back on track: a comeback concert in LA featuring Aldous Snow, a fading rockstar who has dropped off the radar in recent years. Record company intern Aaron Green is faced with the monumental task of bringing his idol, out of control rock star Aldous Snow, back to LA for his comeback show.
Jonah Hill

Russell Brand

Rose Byrne
Elisabeth Moss

Colm Meaney

Sean Combs

Kali Hawk
Aziz Ansari

Nick Kroll

Carla Gallo

Lino Facioli
Tom Felton
Christina Aguilera
Pink

Pharrell Williams

Mario López
Jake Johnson

Ellie Kemper

Kristen Bell

T.J. Miller

Christine Nguyen
Ato Essandoh

Derek Theler

Kristen Schaal
Joyful Drake

Lars Ulrich

Alexandra Wright
Chris Wilson
Magali Widmer
Jonathan Ryland
Kirsten Roeters
Daniel Robaire
Thomas J. Post

Meghan Markle

Kristen Marie Kelly

Tonya Kay

Jill Jordan
Deanna Gibson

George Aloi
Don Abernathy

Dayton Knoll
Andrew Burlinson
Rino Romano
Carlos Jacott
Diana Terranova

Neal Brennan
Nicole Sciacca
Thomas Nowell
Lindsey Broad
Jennifer Perry
Jim Piddock
Ricky Schroder

José Ramón Rosario
Meredith Vieira

Paul Krugman

Da'Vone McDonald

Karl Theobald

Jamie Sives

Tony van Silva
Jessica Ellerby

Ivan Shaw

Chad Cleven
Meddy Ford

Robert D. Yeoman
Leslie A. Pope
Rob Inch
George H. Anderson

Anne Fletcher
Jeffrey J. Dashnaw

Judd Apatow

Jason Segel

Jason Segel

Nicholas Stoller

Nicholas Stoller

Nicholas Stoller

Rodney Rothman

Kimberly Greene
G. A. Aguilar

Chris Haarhoff
Ranjani Brow
Wendy Hoffmann
Melissa Yonkey