Reviews
Descriptions:
When Tony Stark and Bruce Banner try to jump-start a dormant peacekeeping program called Ultron, things go horribly wrong and it's up to Earth's mightiest heroes to stop the villainous Ultron from enacting his terrible plan.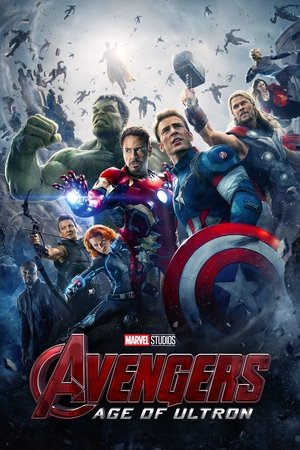 Avengers: Age of Ultron
When Tony Stark tries to jumpstart a dormant peacekeeping program, things go awry and Earth's Mightiest Heroes are put to the ultimate test as the fate of the planet hangs in the balance. As the villainous Ultron emerges, it is up to The Avengers to stop him from enacting his terrible plans, and soon uneasy alliances and unexpected action pave the way for an epic and unique global adventure.

Robert Downey Jr.
Chris Hemsworth

Mark Ruffalo

Chris Evans

Scarlett Johansson
Jeremy Renner

James Spader
Samuel L. Jackson

Don Cheadle

Aaron Taylor-Johnson
Elizabeth Olsen

Paul Bettany

Cobie Smulders

Anthony Mackie

Hayley Atwell

Idris Elba
Linda Cardellini

Stellan Skarsgård

Claudia Kim

Thomas Kretschmann
Andy Serkis

Julie Delpy
Stan Lee

Henry Goodman
Brian Schaeffer

Dominique Provost-Chalkley

Isaac Andrews
Gareth Kieran Jones
Chan Woo Lim
Minhee Yeo
Bentley Kalu

Julian Bleach

Vuyo Dabula
Nondumiso Tembe

Kabelo Thai
Mandla Gaduka
Antony Acheampong

Chioma Anyanwu
Ben Sakamoto
Isabella Poynton
Ingvild Deila
Sunny Yeo

Namju Go
Mina Kweon

Earl T. Kim

Arthur Lee

Verity Hewlett
Michael Matovski

Alma Noce
Constanza Ruff
Monty Mclaren-Clark
Julia Krynke

Tony Christian

Ian Kay
Barry Aird
Aaron Himelstein

Kerry Condon

Jaiden Stafford

Josh Brolin

Lou Ferrigno
Danny Elfman
Hayao Miyazaki
Sarah Halley Finn
Brian Tyler
Stan Lee
Stan Lee
Kevin Feige

Joss Whedon

Joss Whedon

Nina Fallon
Jeffrey Ford
Ben Davis
Jack Kirby
Jon Favreau

Charles Wood

Louis D'Esposito
Victoria Alonso

Lee Ji-seung
Allan A. Apone
Tariq Anam Khan
David Acord

Lora Hirschberg
Natasha Anne Francis
Jim Barr
Tim LeDoux
Neil Fingleton
Lori Grabowski

Flora Moody
Natapon Huangsakuncharoen
Chris LeDoux
Simone Carlo Toniato Toso
Rodney Fuentebella
Erol Mehmet
Alejandra Viejo Lopez De Roda

John Carey
Tom Aitken
Sanchari Chowdhury-Kesler
Tanissa Potrovitza Schoen
Zarene Dallas
Bojana Solomonova Vishemirski